Discover the Surinam outback, pristine nature, authentic villages, rapids, wild waterfalls, massaging jacuzzis.
7 days Famiri Culture and Nature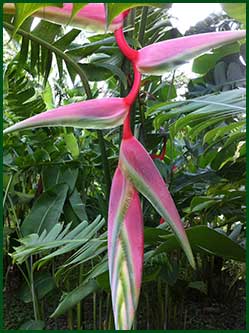 Euro 305 p.p.
This price is based on 2 persons.It is possible to book a room with private bathroom at an additional cost (if available). This promotion is valid from 1 May to 31 July 2017
This trip introduces you to a particular piece of history of Suriname.
You are staying 5 nights in Guesthouse Famiri based on double room with shared bathroom. Famiri is situated in a quiet area of Paramaribo. The stay includes breakfast, bike rental and a day swimming in a bath directly on the Suriname river surrounded by rustling palm trees in the sand. Sun beds, chairs and tables are present for a relaxed stay.
Furthermore you make trips to the Botanical Garden and the Butterfly Garden (incl. roti & drink).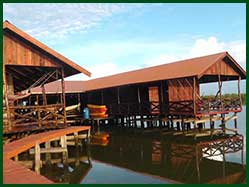 Interesting is the history of Jodensavanne, about 50 kilometers south of Paramaribo. Jodensavanne-founded around 1640-was once the largest settlement of Suriname. Jews fled from Europe built sugarplantations.Remains of this settlement can be seen to this day such as the foundations of a synagogue. After the tour, you have a meal at the local Warung in Redi Delecia. (incl. juice). After that you can swim in the Suriname River. On the way back you visit the little port of Domburg.
In the West of Surinam close to Nickerie you visit the nature reserve Bigi Pan, meaning ' big lake '. It consists of brackish water lakes where many different birds, like the Scarlet ibis, Falcon, Eagle, Pelican, Heron and Stork live and breed. You will stay on the lake in a house on stilts and will be accompanied by a guide during a couple of interesting excursions on the water. 2 days/1 night with full board incl. transport with shared taxi.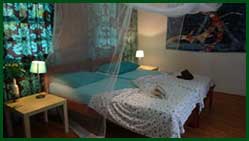 In short:
-5 nights Guesthouse Famiri
-1 night Bigi Pan
-1 daytrip to Butterfly Garden and Botanical Garden
-1 day trip to Jodensavanne and Domburg
-1 day bike rent
-entrance swimming pool
For more information please visit our website www.famiri.com