Curaçao
Curacao is a tropical island, located in the southern part of the Caribbean Sea. Together with Bonaire and Aruba, it forms the Leeward Islands, also known as the ABC islands. Curaçao is the largest of these three islands. Curaçao consists of the island of Curaçao and the island of Klein Curaçao, which is located 10 kilometers from the east coast. The highest point is the Sint Christoffelberg with 375 m. The island consists of coral lime and volcanic rock.
On either side of this are the two districts of Willemstad: in the east the oldest part: Punda, De Punt, with many shops and in the west the district Otrobanda, Papiamento for De Andere Kant. Since 1888, both parts have been connected by a wooden pontoon bridge, the Queen Emma Bridge. On the De Ruyterkade is a lively floating market where mostly Venezuelans offer merchandise to customers on the quay from their boats.
LANGUAGE
The most widely spoken language is Papiamento, and it is also the native language of the Curaçaoans. Dutch is taught in schools as a second language, alongside English and Spanish. The vast majority of Curaçaoans master some or all of the aforementioned languages ​​to a greater or lesser extent. For a long time Dutch was the only official language, but since 2007 Papiamento, Dutch and English have been joint official languages. According to the 2001 census, 81% of Curaçao speaks Papiamento, 8% Dutch, 6% Spanish, 3% English and 2% another language as their home language.
Cheap and secure apartement: THE TUCAN
(suitable for 2-4 people)
This cosily furnished apartment is located on the beautiful Seru Coral Resort in the beautiful tropical garden with the most beautiful largest round swimming pool in the area. The pool is an oasis with good loungers, nice umbrellas, palm trees with a waterfall in the middle and 1.80 deep water. There is an additional children's pool.
This beautiful and centrally located resort is completely surrounded by a wall covered with beautiful bougainvillea. It is further secured with an electric gate with remote control. There is 24-hour security at the gate on weekends. It is very safe with private parking spaces inside the gate at the apartments. That's why we don't suffer from burglary. It is also very suitable for long-term rental for trainees, expats and ICT professionals.
The apartment is located on the wind and has a semi-open balcony with opening windows, so that you have the idea of ​​sitting outside. This is a good solution in Curacao, because you sit in the shade yourself and have a good wind that blows in, but you can still place screens in the rainy season and sit outside. The living room incl. The balcony is therefore a good place to stay in the heat.
There is a large 6-person sofa, which can not be used as a sofa bed. A 50" TV with chrome cast for streaming, dining table with 4 chairs and 2 rocking chairs plus new foldable sofa bed with mattress of 145x210 cm. The bedroom has a double built-in wardrobe with mirror wall, air conditioning and a smart TV. Also opening window and shutters that can be opened to let the wind in. you can also sleep well without air conditioning.The walk-in bathroom has a washbasin, toilet and shower.
The kitchen has a granite counter top and breakfast bar with 2 bar stools. Gas stove with oven, large fridge with large freezer compartment, coffee maker, kettle, sandwich app. and all necessary pots / pans and cutlery for at least 4 people. There is a laundry room with new LG washing machine and drying rack. There are drying lines in the gallery. Bath towels, hand towels, kitchen towels, bed linen 2 sets available.
The resort is located in a quiet neighborhood. It is useful to rent a car if you do not want to stay at the resort all day. This is possible at the resort from 25 euros per day.
Location: In the middle of the island, 10 km from Willemstad, 4 km from Canoestrand, 3 km from St. Jorritsbaai and 2 km from the ostrich farm.
Bus stop 5 min walk.
Diving school, car hire and taxi company on the Resort
Small supermarket 5 min walk
The roads are quite good and fast.
Energy is expensive on Curacao and is calculated separately, so this can save on costs. The separate meters are read at both check-in and check-out and the energy used is calculated. This can either be paid in cash or settled with the deposit.

We do not like different prices for high and low season and therefore keep an average for the whole year, which everyone can benefit from. We ask E 315 per week. Per month: E 990 for 2 persons. Escept for the Christmas period, 23.12. tot 5.1. Then we ask E 55 p.day for occupancy of 2 persons. For several people on request.
We ask for a deposit of E 200 for the entire period, which will be refunded within 7 days after departure if there were no calamities.
For bookings up to 14 days, we ask for the final cleaning (with normal use) E 50. For longer bookings, we have the apartment cleaned 1 x in 14 days by our cleaning company. This costs E 50 per 14 days.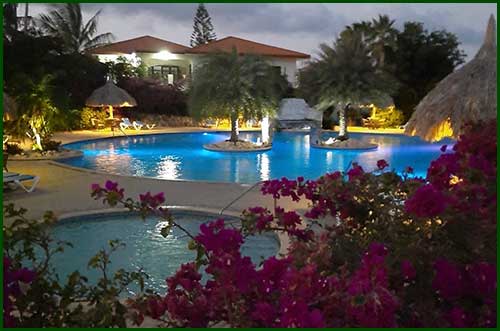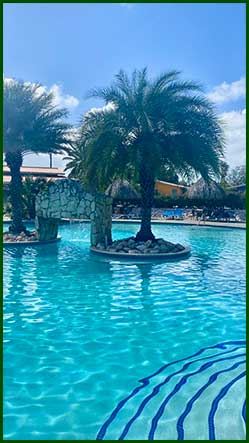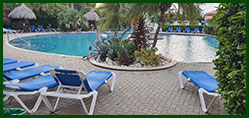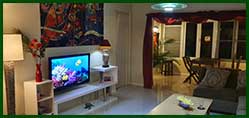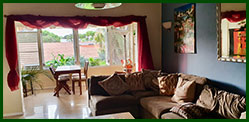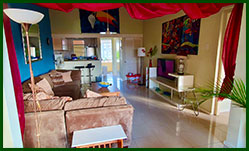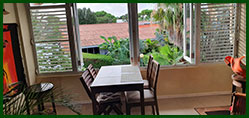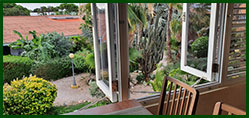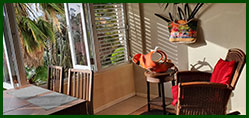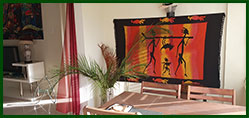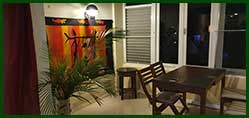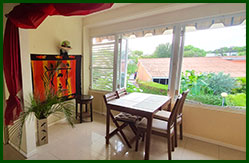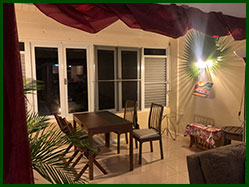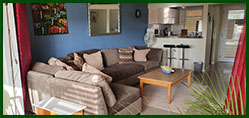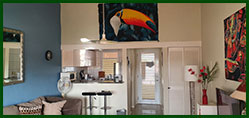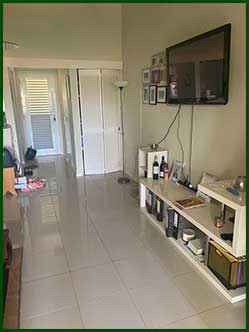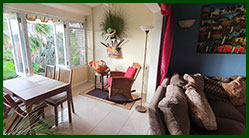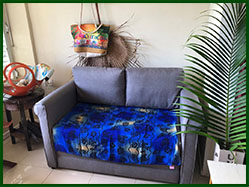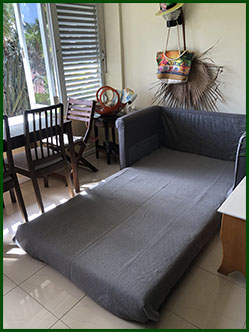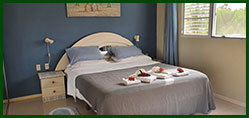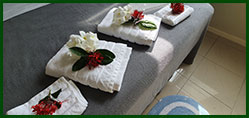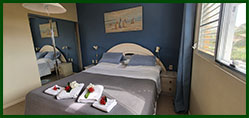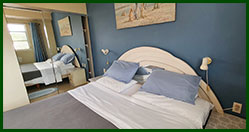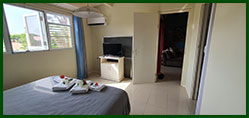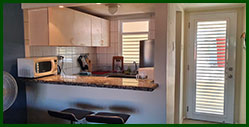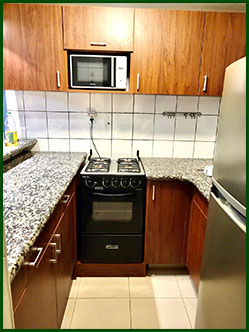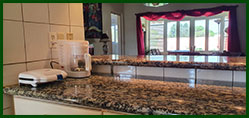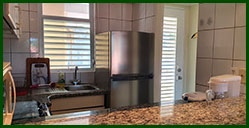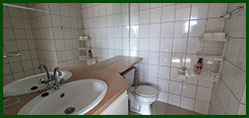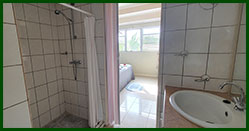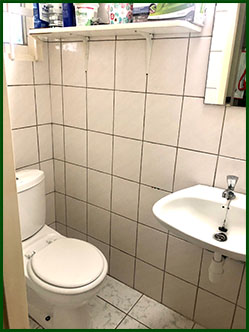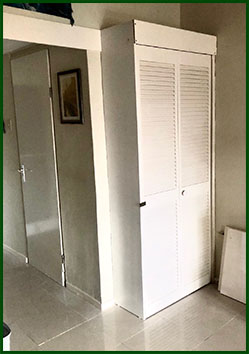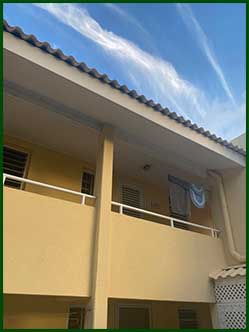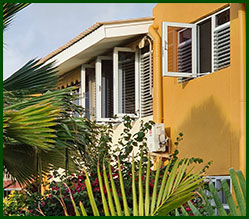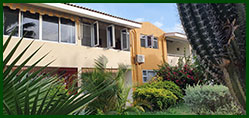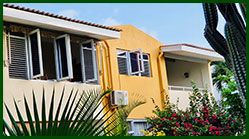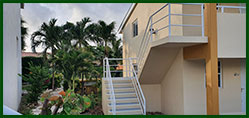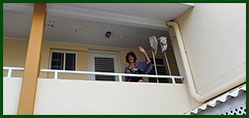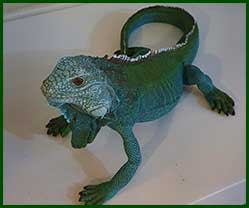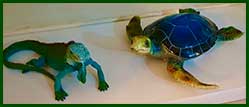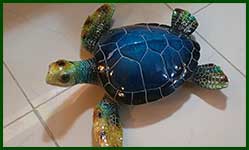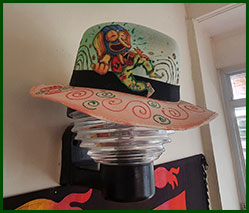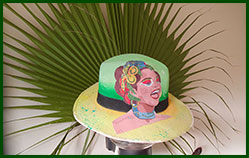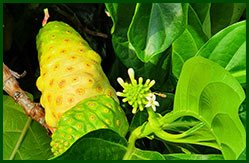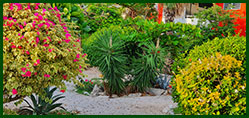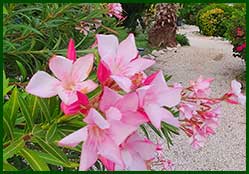 What to do on Curaçao
Curaçao is a country full of sun, sea and sand. The wonderful tropical weather ensures that you can spend every day on one of the many beaches. But besides beaches, the island has even more to offer. There are many places of interest on Curaçao. The island has a beautiful underwater world, a nice capital, Klein Curaçao and of course the caves of Hato. What to do in Curacao? In this article you will find a list of all kinds of sights and activities that you can do on the island. Whether you want to relax on the beach, or if you prefer to do activities, you will never be bored on this island!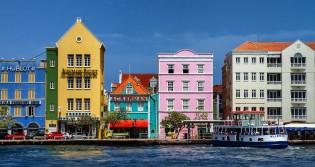 Grotten van Hato
Eén van de bekendste bezienswaardigheden op Curaçao zijn de grotten van Hato. In de 4900 m2  Hato grotten schuilden vroeger slaven die op de vlucht waren. Tegenwoordig kan je onder begeleiding van een gids een kijkje nemen in deze grotten. De grotten van Hato, in het noorden van Curaçao, zijn erg mooi en de gids weet je van alles te vertellen over het ontstaan en de geschiedenis van het grottenstelsel. In de grotten van Hato is ontzettend veel te zien. Stalagmieten, stalactieten, romantische inhammen, rotstekeningen, ondergrondse meren met waterval en wat te denken van vleermuizen! Doordat de grotten van Hato niet onder de zeespiegel liggen, is het niet zo heel erg koud. Dit in tegenstelling tot andere grotten, je hebt hier genoeg aan een dun vestje. De grotten van Hato zijn echt een bezoek waard! Mocht je ze gaan bezoeken, neem dan ook de tijd voor de cactustuin die op het terrein te vinden is.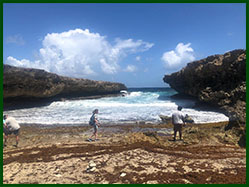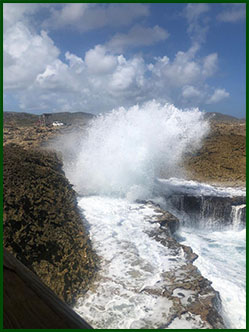 Sights on Curaçao underwater

Discover the beautiful sights on Curaçao in the underwater world! This island is known for the most beautiful coral reefs and fish. During your holiday on Curaçao, the underwater world should certainly not be missed. This can be done in various ways. Go diving on Curacao or discover the underwater world with your snorkel set. There are also plenty of sights on dry land to discover Curacao's underwater world.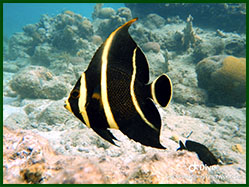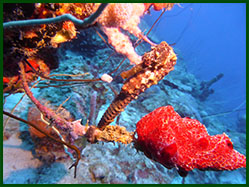 Sea Aquarium
One of the most popular sights on Curaçao is Curaçao Sea Aquarium. In the Curaçao Sea Aquarium there are various shows with dolphins, flamingos, sea turtles and sharks. During the shows, the public can come and pet the animals. An unforgettable experience! The Aquarium's outdoor pool is also home to a sea lion, lemon sharks, and nurse sharks. This is the only place where you can feed these animals out of hand. Then bring your swimsuit!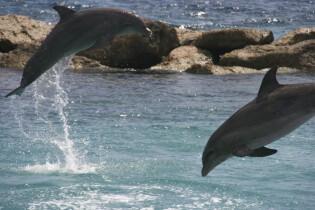 Curaçao Substation
Can't you dive or snorkel yourself? Then there is certainly something to do on Curaçao for you! On Curaçao you can discover the sea at a depth of about 320 meters in a submarine. With the mini-submarine Curasub you can enjoy the colorful fish, corals and old shipwrecks underwater in 1 hour and 15 minutes. Afterwards you will be able to take home all the underwater photos taken during the adventure.
Dolphin Academy
When asked what to do on Curaçao you probably immediately think of dolphins. Anyone can swim with dolphins on Curaçao. At the Dolphin Academy there are 6 different programs so that there is a variant for everyone. So do you want to become a dolphin trainer or just petting? At the Dolphin Academy it is possible. The Dolphin Academy is one of the best attractions on Curaçao for children.
Blue Room
Something that should definitely be on the 'Things to do in Curaçao' list is a visit to the Blue Room. This unique natural phenomenon can only be reached by boat, but don't let that stop you. Arriving at the cave you first have to swim a bit underwater, but soon you will arrive in the blue cave. The cave is so beautiful blue because the sun reflects on the azure sea water. Truly a beautiful face!

What to do on Curaçao if you don't want to lie on the beach all day? Enjoy the flora and fauna on the beautiful island. Curaçao has several nature parks where you can admire special plants and animals. For example, visit the only tilapia nursery, Mimi's Eco Farm, or enjoy the waves crashing against an underground cave in Shete boka national park. Or visit one of the following sights on Curaçao: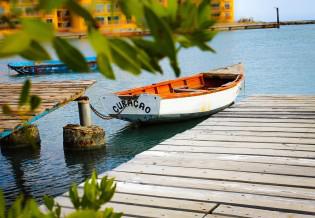 Or visit one of the following sights on Curaçao:
Christoffel National Park
This largest national park in Curaçao is full of exotic animals and plants that you cannot find anywhere else on the island. The park offers 8 walking routes, starting with a gentle walk and increasing to a tough walk where you climb the Christoffelberg. If you want to walk this last walk, do this in the morning. This is because of the tropical weather. These walks lead you past beautiful natural landscapes and various local birds and plants. Do you like mountain biking? Then there is something for you to do in Curaçao in this national park. In this park you can rent mountain bikes and climb the mountain in this way. The park offers more activities such as sunrise safaris and deer watching. Read more about the Christoffel Park.
Ostrich Farm
Is riding an ostrich already on your 'What to do in Curaçao' list? This is possible on the ostrich farm. Every hour you can go on safari with a guide. During such a safari you learn everything about the farm and all the animals that live there. These are not only ostriches, but also parrots, iguanas and crocodiles. You can read all the tips and information about the ostrich farm here.
Zoo Parke Tropikal
In the middle of Willemstad you will find Curaçao Zoo Parke Tropikal. A free tropical garden with all kinds of exotic animals. In this large garden you have a chance to see monkeys, flamingos, turtles and raccoons. A must if you are on the island with children.
Pippi's shelter
Are you looking for a nice outing? Go swimming with the horses and donkeys of Pippi's shelter and have a unique experience, helping Pippi's keep this amazing shelter.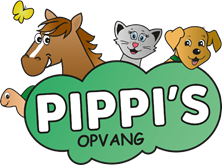 In addition to nature and the underwater world, there are even more places of interest on Curaçao. What about the popular beaches of Curaçao? The Grote and Kleine Knip are busy beaches where you can enjoy the island. Curious about a desert island? Then go on an excursion to Klein Curaçao. An idyllic island with a clear blue sea and the most beautiful beaches. A visit to Willemstad should definitely be on your 'What to do on Curaçao' list. A day of shopping is perfect in the island's capital. In this charming town you will find nice shops, restaurants and bars. Also take a look at the lively and colored harbour. Do you know the drink Blue Curaçao? This famous liqueur is still produced on the island at the Chobolobo country house. During a free tour you can taste one of the world's most famous liqueur of Curacau