Discover the Surinam outback, pristine nature, authentic villages, rapids, wild waterfalls, massaging jacuzzis.
Coesewijne Canoe trip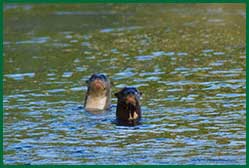 The Coesewijne River is a right tributary of the Coppename River, which wells up on the Savannagebied North of the Goliath mountain, flows to the North, bends in the young coastal plain to the West to flow to South of forest camp in the Coppename River. The Coesewijne is largely narrow river, can be making intense contact with nature . Flora and fauna come in great diversity. Giant otters, trapoens (big fish) and the Amazon Manatee (a smaller species of the West Indian manatee) are appearce here. On the upper reaches of the Coesewijne begins the upper Coesewijne nature reserve.
Day 1
our journey begins in Paramaribo by jeep along with the canoes on a trailer to the starting point of the journey, the Above Coesewijne River. A trip by jeep from 2.5 hours along the Zanderij airport and then by the Coesewijne. Once in the boat, we job our way across the narrow Above Coesewijne River. At low tide, we must leave regularly the boat to pass these obstacles and fallen trees. Today we make a camp. Nothing is more delicious than enjoy all the sounds in the jungle while enjoying a good meal. In addition to our group there is nobody else. The busy city is far away. Only we and the jungle.

Day 2
today we sail the Goliath Creek down to the junction with the Coesewijne River. Here we paddle inro the Coesewijne nature reserve, passing Pakoeli-the old Stinasu base camp, and we stop regularly en route to enjoy the special surroundings. We see many unusual birds such as the Osprey, the ploceidae family and different types of parrots. On a nice quiet spot along the river we go ashore and make our lunch ready. Next, we start our last journey and paddle back to Pakoeli where the jeep is waiting. At the end of the day we will arrive in Paramaribo. Includes: Guide, stay overnight in tent or hammock, all meals, transportation, canoes, camping equipment and accessories.
Book a 2-day day trip at anneketrips@live.com for €175,-all-in p.p., starting from 4 persons.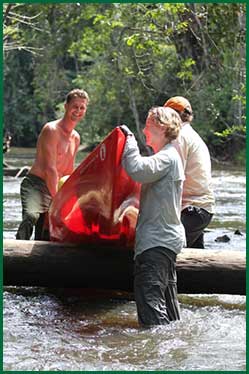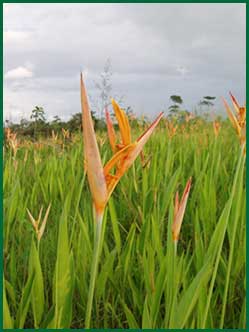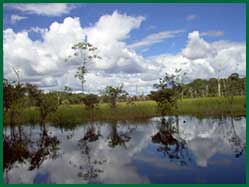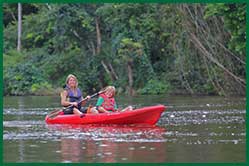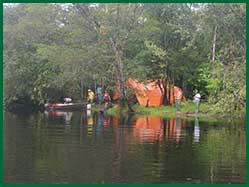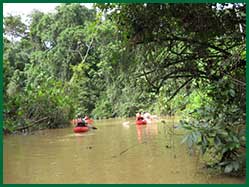 Due to inflation, all prices are available on request