Discover the outback of Surinam, pristine nature, authentic villages, rapids, wild waterfalls, natural jacuzzis.
How it all started.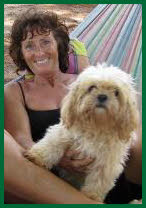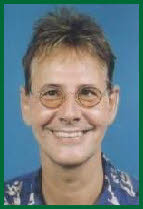 In 2000 Anneke and her husband Ruud read an article in a newspaper about the island Danpaati in the Upper Surinam river. Here, with sponsor money, volunteers have build an Eco Resort. Next to the resort there is a stone building meant to accommodate a wholesale business or a shop for the native people. For this project they were looking for volunteers. It makes Anneke and Ruud very curious and they decide to travel to Surinam and visit Danpaati in the outback.
They immediately fall in love with this wonderful country and its hospitable people. They decide to return within six months to start a wholesale business on their own expenses. With only two backpacks they arrive at Danpaati to live in a small wooden cottage. In town they contract a supplier and also a truck driver to get all the groceries to "De Troefmarkt". Once every six weeks they go to town themselves to buy non-food products like: medicines, clothing, tools, building materials, batteries, jewellery, fishing gear, vitamin pills, toothbrushes, perfume, deodorant, hair straight, fabrics for pangis and torches.
After a couple of months the volunteers running the Eco resort leave for France. Anneke and Ruud are being asked to manage this project as well. As volunteers of course. It does mean loads of extra work! They have to build a website, make a leaflet, meet tour operators, create a network, managing the resort, train the staff etc.
Both projects have been housed in a foundation which goal it is to support the "Foundation Homecare Surinam Outback" as well as some other small projects in twelve selected villages in the vicinity of Danpaati.
From the start the shop runs very well. Native people in their boats (korjalen) arrive from everywhere to do their shopping at Danpaati. Suddenly they can buy lots of different products, prices are reasonable and supply is guaranteed. The Eco resort starts getting more visitors. After some months embassy personnel and their guests become regulars at Danpaati. Also the Homecare project is doing well. Villagers are being trained how to take care of the elderly people, helping them with personal hygiene, getting dressed, collecting wood for the stoves etc. It also means that new jobs are being created.
After two years of hard work it is time for Anneke and Ruud to make a change. They are being asked to run the beach resort Overbridge. For over a year they spend their time reorganising, selling land, supervising building projects, training staff, etc.
Having lived for three years in the outback of Surinam, they now long to discover the city of Paramaribo. But what next? They keep working as volunteers and they start giving courses on customer service & communication as well as courses on financial management. At last they have time to discover the rest of Surinam.


Tourism

With all the knowledge they have so far, they are fully equipped to start organising 'customized trips' to the outback of Surinam. Also because they feel highly committed to the native people.
At the end of 2005 Ruud suddenly dies from a cerebral hemorrhage. Anneke does not return to the Netherlands. She renews the contact with the tour operators and after having studied the history of Surinam she starts working as a freelance guide. She enjoys showing tourists 'her country' and telling them about the history. Many friends, acquaintances and friends form friends ask her to organize a customized trip. Because she knows all the resorts in Surinam she can always optimally advise her customers. For every budget there is a trip. Commission is being paid by the resorts, not by the tourists.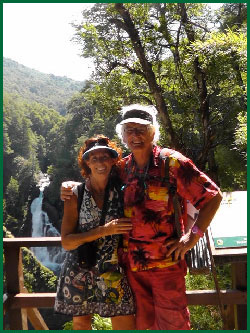 Im In 2008 Anneke meets Ries in Surinam. After a long stay in India he is on the lookout for another tropical country to exploit his activities. They get on together very well and with the aid of sponsor money they set up projects in the outback of Surinam to provide clean drinking water for the native people. Now they get to know the country even better and with this experience and knowledge Anneke optimizes her 'customized trips'.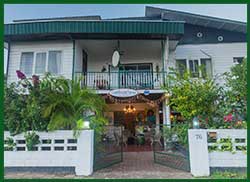 At the start of 2015 they buy B&B Famiri that is situated in a quiet and safe neighbourhood near the city centre of Paramaribo. With their motto "our home is your home" they run this cosy family Guesthouse. In Famiri everybody can enjoy the picture exhibition of Juliette Korse. With lots of colours en expression she paints portraits of colored people. Apart from the exposition Famiri also organizes activities as cooking classes, readings and yoga lessons. Take a look at www.famiri.com or visit the facebook site B&B Famiri.
Guests staying at Famiri are always welcome to ask anything they like to know about Surinam.