Discover the Surinam outback, pristine nature, authentic villages, rapids, wild waterfalls, massaging jacuzzis.
Bigi Pan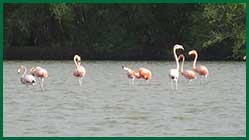 Staying 2 or 3 days in the Bigi Pan Nature Reserve at Nickerie. Bigi Pan is located behind the dykes at the Atlantic Ocean, 240 km west of Paramaribo. Bigi Pan consists of brackish water lakes. The lakes are excellent breeding grounds for birds such as red ibisses, falcons, eagles, cormorants, herons, storks, etc. You will find here many caimans and fish like tilapia as well.
A minibus will pick you up at your hotel in Paramaribo and after a 3 hours drive we arrive at Nickerie. Here we drive along the Nickerie river until we reach a small jetty where Stephanie will be waiting for you with a korjaal. After a 15 minutes boat trip along the Nickerie river we arrive at a spot where we can pull the boat up the dyke. We continue with a beautiful trip through a marshy area with lots of small creeks where you can spot many birds.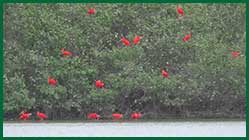 After 35 minutes we reach a lake. Here, on the water, several wooden stilt houses have been build. Stephanie will take you to her U-shaped house where she has several rooms with twin beds, toilet, a washstand and a balcony. At long tables at the base of the U-shape you can enjoy her culinary skills. There is a viewing platform with loungers from where you can descend to the water to go for a swim or a kayak tour. From this spot or from your own balcony you can watch the sunrise or sunset. 
In the afternoon we take a boat trip on the lake to do some bird watching. At nighttime we will take the boat again to do a caiman tour. 
The next day we can go fishing with Stephanie. First we put up a net and hit the water with sticks to drive the fish into the net. We can also sail to the dyke near the Atlantic Ocean and at low tide have a mud bath. Or just chill out.
After lunch Stephanie takes us back to the jetty from where we return to Paramaribo by minibus.
Indicative rates:
2/3 days Eur 130/195 p.p. all-in including transport P'bo -. Nickerie vice versa.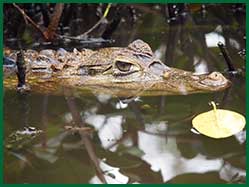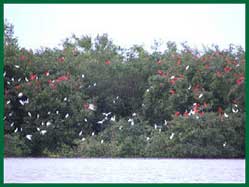 Due to inflation, all prices are available on request