Discover the Surinam outback, pristine nature, authentic villages, rapids, wild waterfalls, massaging jacuzzis.
Bongo island - Botopassie Cruise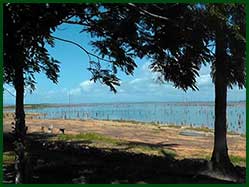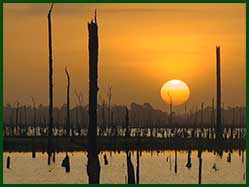 Five Day Round Trip: Paramaribo to Upper Suriname.
Day 1
Together with our guide you travel by bus from Paramaribo to the Afobako Dam, just South of Brokopondo-Centrum. Then the journey continues by 'korjaal' a local canoe, for about one and a half hours to Bongo Island in the Van Blommestein Lake. On arrival lunch is served. The island is covered with all kinds of fruit trees, tropical and exotic plants and offers many possibilities for spending the afternoon, such as spotting the wildlife, swimming, fishing or just relaxing. A beautiful sunset awaits you after dinner and you will be surprised by the brightness of the stars at night.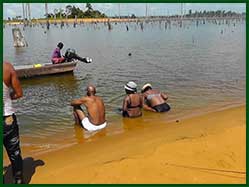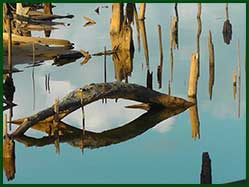 Day 2
After breakfast, you can take a walk in the woods or do some fishing. Remember, no obligations, anything goes. 

Day 3
After breakfast you travel by korjaal to Baka Boto, passing the Mamadam sulas (rapids), and further on by bus to Atjoni. From Atjoni you continue by water through the amazing rain forest, crossing more sulas and passing traditional villages on the river banks. Your destination for the next two days is Jungle Hotel Botopassie – staff will be waiting at the riverside to give you a warm welcome.

Day 4
You take the bush path to the traditional village Pikinslee, passing the small Christian village of Futunabaka and the regional health post. (In the wet season you may make the full trip by boat.) During the walk, the guide explains local uses of the trees and plants which you see around you. At Pikinslee you are given a guided tour around the beautiful 'Samaaka Marron Museum' to learn about the intriguing history and present culture of the Maroons of Upper Suriname. The hotel boat will pick you up at Pikinslee and return you to Jungle Hotel Botopassie.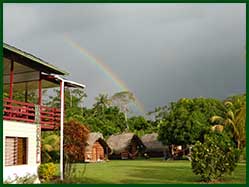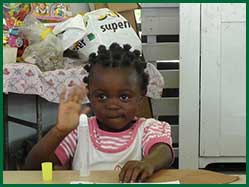 Day 5
After breakfast your return journey to Paramaribo commences through the jungle and savanna areas. You travel first by water to Atjoni and then on by bus back to Paramaribo, arriving in the afternoon. 
The round tour costs Euro 400,- per person, including 4 nights accommodation and all meals.
Vanwege de inflatie zijn alle prijzen nu op aanvraag