Discover the Surinam outback, pristine nature, authentic villages, rapids, wild waterfalls, massaging jacuzzis.
7 days Famiri Introduction to the jungle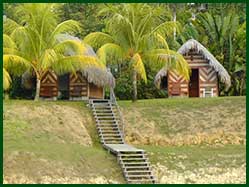 Euro 210 p.p.
This price is based on 2 persons. It is possible to book a room with private bathroom at an additional cost (if available) This promotion is valid from 1 May to 31 July 2017
During this trip you will stay two nights in the jungle
You are staying 4 nights in Guesthouse Famiri based on a double room with shared bathroom. Famiri is situated in a quiet area of Paramaribo. The stay includes breakfast, bike rental and a day swimming in a bath directly on the Suriname river surrounded by rustling palm trees in the sand. Sun beds, chairs and tables are present for a relaxed stay.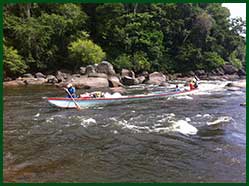 In consultation we plan your visit to either resort Isadu or Botopasi, both on the upper Suriname River. After a 3 hour drive you will arrive at Atjoni, where the road ends and the journey continues In a wooden dug- out canoe
After 45 minutes you arrive at the island of Isadu, where you stay in a wooden cabin with private bathroom and veranda. The boattrip to Botopasi takes 2 hours. During your stay at this resort you visit the Samaaka Marron museum that gives you a good picture of the history and culture of this population group.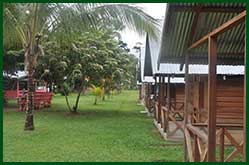 Your stay includes meals and a visit to the village JawJaw. Here you will experience the special, centuries-old culture of the descendants of runaway slaves, the Maroons. When it is dark, your guide takes you to the River to watch the Caymans. You also take a walk in the jungle, where the vegetable gardens of the Saramaccans are located. Back in Guesthouse Famiri you can explore Paramaribo and also laze in an exotic swimming pool with palm trees bordering the Surinam River.
In short
-4 nights in Guesthouse Famiri
-2 nights in Isadu or Botopasi
-1 day bike rent
-entrance swimming pool
For more information please visit our website www.famiri.com