Discover the Surinam outback, pristine nature, authentic villages, rapids, wild waterfalls, massaging jacuzzis.
6/7 day jungle expedition tour
Day 1: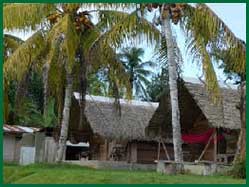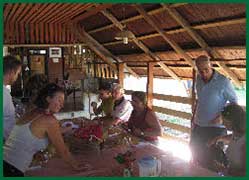 At 11:00 am you fly from Zorg en Hoop airport (South Paramaribo) to Kajana at the Gran Rio (1 hour flight, € 125,- p.p. one way). You will be warmly welcomed by your host Mr Nangjanman of the Eco Resort Kosindo. After a 5 minute sail along the Gran Rio the crew of Kosindo receives you and shows you your cottage where you can leave your luggage. The cottages are located at the riverside. Each cottage has two beds, mosquito nets, bed linen, towels, bathroom and also two hammocks on the porch. In the restaurant, built on stilts on the river, lunch will be waiting for you (water and juice included). After lunch you can enjoy a well earned rest or go for a swim in the Gran Rio. Take a look at the children fishing for sardines with nylon threads, hooks and empty cans and at the women doing the dishes in the river. In the afternoon you can take a village walk with a local guide visiting Kosindo and Kajana. In the evening after a wonderful dinner you can watch the stars or have a drink at the bar.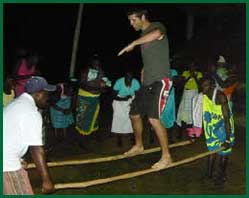 Day 2:
After breakfast you can go for a forest hike (3 hours) with a local guide. € 35,- per group (max 5 p.).In the afternoon there is a possibility to go on a sailing tour to Awardan to swim and float in the sulas. On the way back you pay a visit to Awarradam (Eco Resort) after which you can spot birds on the river. We switch off the engine so you can enjoy all the sounds of the jungle. € 50,- per group (max. 5 p.). After dinner you will be in for a big surprise! The local people will show you how they throw a party with music, song and dance. You will be stunned by the so called "stokkendans" (dance with sticks). € 70,- per group.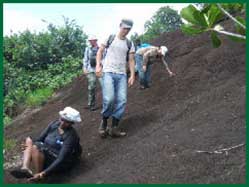 Day 3:
After breakfast we sail for about 15 minutes downstream by korjaal after which we start climbing the Okobergi. A 6 to 7 hours climb, a picnic on the rocks and finally your reward: amazing views of the jungle! € 80,- per group (max 6 p.). Dinner included. 3 night stay: € 37,- p.p.p.n. with full board.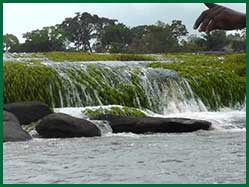 Day 4: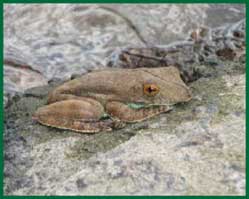 After breakfast we leave for Gran Dan. At this big waterfall you have to wade a bit through the sulas (rapids) before we change boats. Here you can take pictures and have a swim. Then we sail the most beautiful part of the Gran Rio up to the Tapawatra Falls at Djumu and Asinohopo. Here the Pikin Rio and the Gran Rio meet and the Upper Surinam river rises. We leave the boat and walk downwards along the Tapawatra Falls. € 120,- per group (max.4 p.). Here Mr Chapeau of the Pingpe Resort will receive us. Chapeau is a lovely host who has been born and bred in this region. He brings us a picnic that we enjoy on the boulders at the waterfall. After lunch you can go for a swim or relax in one of the many jacuzzis. Chapeau will then take you for a walk through Asinohopo where the Granman of the Saramacaner tribe (former slaves) live. He will also show you the medical clinic of Djumu. € 65,- per group: transport from Tapawatra to Pingpe, including Mr. Chapeau's fee. Later that day we will sail to Pingpe (30 minutes). This resort is also located on an island. Here you can relax having a drink at the riverside and enjoying the view. We pass the night in 2 or 4 person cottages. Basic, but with own bathroom and balcony. The food is abundant and tastes wonderful. € 37,- p.p.p.n., full board.
Day 5: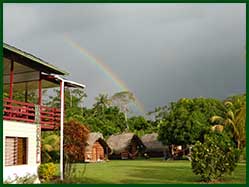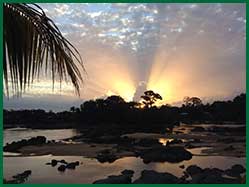 After breakfast we sail through 2 big sulas to Hotel Botopasi (1:15 h sailing, SRD 60 p.p.). The Upper Surinam river is very wide here with many large boulders. As a result at low tide there are many rapids with small beaches in between where you can enjoy bathing. Wearing a life vest you can float downstream and swim back again to the beaches. The meals are being served on the hotel veranda (1st floor), from where you have excellent views over the river. In the afternoon you can chill in the pina-cabin bar at the riverside or in the hammock hut.
You stay in a lovely cottage with bathroom, twin beds with bed linen, mosquito nets, towels and your own porch with view of the river as well as the village of Botopasi.
After lunch you have time to chill, take a walk through the forest behind the hotel to a creek (7 day tour) or take a boat and sail to Botopasi and hike the forest trail the local people take to Debikeh (medical post) and further on to Pikinslee. SRD 125 per group (max. 4 p.).
On the way you will pass several creeks and so called "kostgrondjes" (vegetable gardens).
On your way you will meet many local people who are working on the "kostgrondjes", or are washing their clothes in the creeks. In Pikinslee a Rasta community lives. They are very able and creative woodworkers. See for yourself. Here you also find the open air museum about the culture and history of the Saramacaner people. Entrance fee: SRD 20 p.p.
A boat will pick you up for lunch at your hotel at Botopasi (6 day tour). Dinner and a cozy evening on the veranda.
Overnight stay: € 39,- p.p.p.n., full board.
When you have booked the 7 day tour you have a day to yourself . We do the Pikinslee trip on day 6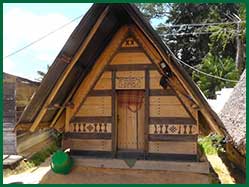 Day 6:
After breakfast departure by taxi boat for Atjoni (1½ hour sail, SRD 70 p.p.).
From there you leave by public transport to Paramaribo (3 hours drive, SRD 70 p.p.).
Arrival at Paramaribo approx. 15:00 hours (6 day tour).
The 7 day tour will be doing the afternoon trip to Pikinslee.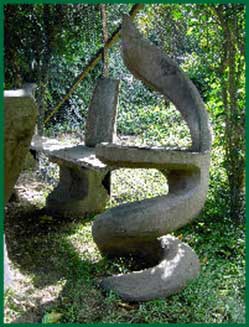 Day 7:

See day 6.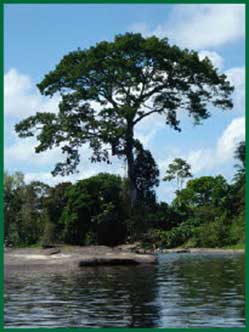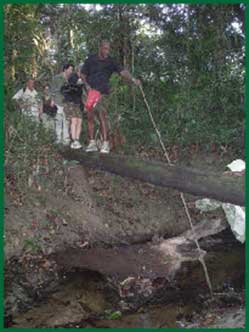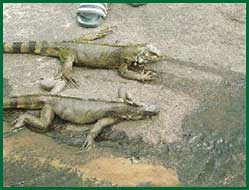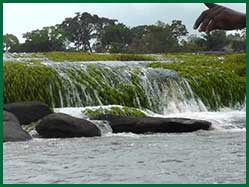 Mind: if there are no people signing up for the Okobergi trip on day 3, you leave on day 3 for Pingpe. Optionally you stay one day more at Pingpe or at Botopasi. The total number of days stays the same.
With this tour you can see the entire Upper Suriname River with its 60 villages and a large part of the Gran Rio. Indication: €565 p.p. all inclusive 6/7 days

Due to inflation, all prices are available on request