Discover the Surinam outback, pristine nature, authentic villages, rapids, wild waterfalls, massaging jacuzzis.
Frenche Guyana and St.Laurent / Day tour
A little history is always interesting, in Guyana we are in the right place.
Tour Program
From Paramaribo we take the bus to Albina. The journey takes about two hours. Then we take a boat trip on the Maroni River, the boundary between Suriname and French Guyanna. We will arrive in Saint Laurent and bring first a visit to the notorious prison of Papillon, where several movies have been filmed. The prison is a collection of world history which makes it very multicultural. Entrance: Euro 6 p.p.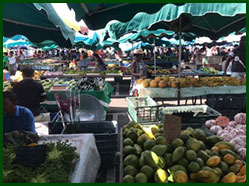 Later we take a look at the pristine culture which can be found on the market. Here you are free to enjoy all the sights and smells. This is a great opportunity to the exotic abundance of fruits and vegetables to taste. During this free time you can enjoy your lunch. Market days are wednesday and saterday.
Then we walk along the SuperU, this is a French supermarket where European products are found.
After we take again the boat to Albine, were the minivan is waiting.
departure point Zus & Zo
departure 7:00 pm
Price € 85 per person
including guide, transportation, entrance prison and beverage
excluding lunch
Vanwege de inflatie zijn alle prijzen nu op aanvraag